A road runner goes trail running
September 1, 2011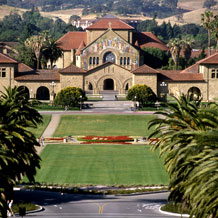 I'm spending a few days this week in Stanford, California and making my way over to American River's South Fork for some rafting over the weekend. To keep up with my training, I've decided to tackle the numerous woodsy trails around Stanford University and spend some time running off road.
Like many road runners, I always forget that trail running is very different from road running. Depending on the trail, you might need special shoes with added cushioning and support. Some even have bumpers to protect your toes! Stanford's trails are pretty manageable so I did alright with my road shoes. It compromised my pacing, but it felt great on my legs. A few things I noticed so far in the past 2 days of trail running:
it's a lot more challenging than the road – there's rocks, gravel, tree roots, dirt, fallen branches, and more hills than my usual runs; you really have to watch out for changes in the terrain
there's a lot of footwork involved – larger rocks and uneven ground require light, quick, and responsive foot movement to maintain a consistent pace
time flies when you're on a trail – running a 5k on a track or a park loop is nothing like running a 5k by a lake or in a national park… just awesome
I read somewhere that running on trails require a base, much like building up your mileage for an upcoming marathon. Road runners generally experience a drop on mileage when they switch over and their pace will be slower (my usual training pace is under 9:45/mile and it's been hovering around 11:33/mile since I started. Wish I could keep this up in Brooklyn… perhaps, I'll look into that. Trail running is pretty much somewhat of a cross-training activity in itself!