How to do hill training, without the hills
September 15, 2011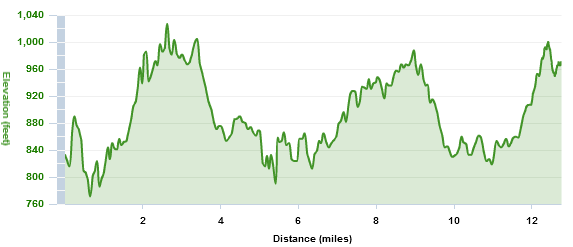 When I lived in Sydney, my apartment sat at the bottom of two hills which meant it was an uphill battle at the start of each run. I whined about it all the time because it was hard and I couldn't really do speedwork on it. But now, I really kind of miss those hills. We don't get very many of them in Brooklyn, but hill training is important for developing strong legs…. not to mention, it can help give that extra push I need to dig deep and finish strong on races. Too bad, I don't like simulating hills on a treadmill – it's just not the same. So I did some research and found a few best practices for hill training (when there are no hills):
Stairs – This is a little trickier. You'll need to find either a public building or a park area that has stairs. In Brooklyn, I do this at Fort Greene Park – the run up to the fort takes me about 45 seconds or less on the stairs, so it's anaerobic and I have to walk back down to recover. Just remember: you shouldn't run down the stairs because it's definitely not good for your knees.
Weight Training – I cross train about 2-3x a week. It involves an easy 2.5 mile run to the gym, 20 minutes strength training for the upper body and legs, and 2.5 miles back. Runners don't really have a need for "bulking up" – if any, it just puts on weight that you'd rather not have. But strength training can help prevent injuries because it reinforces the muscles around your joints.
Squats, Lunges, and Jump Squats – these are pretty straightforward. Static squats are the most common (list http://exercise.about.com/od/lowerbodyworkouts/ss/lunges.htm). Jump squats are more fun and it's a real workout. Your hamstrings, quadriceps, calf muscles, and your butt will thank you for it.
Bridge Repeats – New York City has a lot of bridges with sidewalks. Start early to avoid crowds and/or tourists. Warm up before hitting the bridge, sprint uphill and across, then slow as you go downhill. Repeat.
I'd love to find more ways to simulate hill training, but these will probably do the trick for now 🙂